emsCharts

Now available for download
on your iPad and iPad mini.
ems

Charts SyncPad

Now Available on the App Store!
Simple and intuitive, the iPad can now be used as your tool of choice to collect mobile patient data for your emsCharts system. emsCharts has collaborated with SyncPad, LLC for this easy-to-use data collection tool delivered as an offline iOS app for your iPad or iPad mini.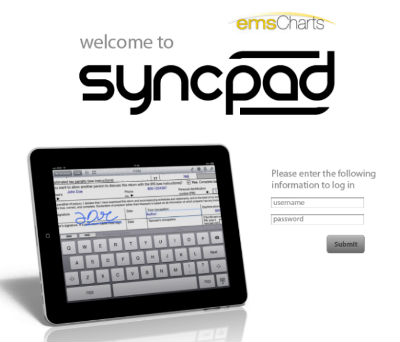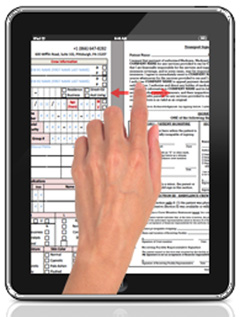 emsCharts SyncPad Features
Paperless, offline patient data collection
Electronic signature capture
Uploads data to corresponding fields in your emsCharts.com account
Attaches a PDF copy of the form to your online ePCR
Customized layout(s) available
No data plan or WiFi connection required to operate in the field
The Form
SyncPad, LLC - our collaborative partner for the SyncPad product - has developed the technology to re-create customer documentation forms on the iPad or iPad mini. Each form has a layout with specific boxes for EMS agencies to document their assessments and procedures. These boxes directly connect to the agency's emsCharts configuration, defaults, and medical industry standards.
All procedures and medications are mapped to allow a fast, easy way to document in the field without interrupting patient care. An unlimited number of forms - such as patient assessment, refusal, billing, or narcotic waste, for example - can be used on a single EMS incident.
The Interface
SyncPad, LLC has developed software to interpret and translate EMS documentation from the iPad device into data. This data is then uploaded to emsCharts.com where it is translated and directly imported into the corresponding fields of the emsCharts patient record.
How EMS Providers in the Field Use emsCharts SyncPad
Once logged in to the SyncPad app, the EMS provider selects one of the preconfigured doucmentation forms (e.g. assessment, medical necessity, refusal, etc.).
The provider fills out the form with patient information, assessments, findings, etc. using touch-screen drop-lists, check-box selection, and character entry with the on-screen keyboard.
Signatures are obtained on the device when applicable.
Forms are uploaded to emsCharts.com where data is translated and populated into corresponding fields of the emsCharts electronic patient care report (ePCR).
PDF copies of the field document(s) are auto-attached to the emsCharts ePCR to be viewed at any time.
Fast, simple, thorough documentation!
Get to know emsCharts SyncPad with this series of short video clips (no audio).
Operating System: iPad iOS 8

Requires a subscription to emsCharts