Geocoding
The emsCharts Geocoding module provides an assortment of powerful features to enhance data collection and reporting. Geocoding is the process of assigning Latitude and Longitude coordinates to all addresses (referring, receiving, and patient addresses). After coordinates are assigned, the Geocoding module can be used to auto-calculate mileages, setup bio-surveillance alerts, perform spatial analysis reporting to view EMS incident plot densities, and run a variety of statistical reports.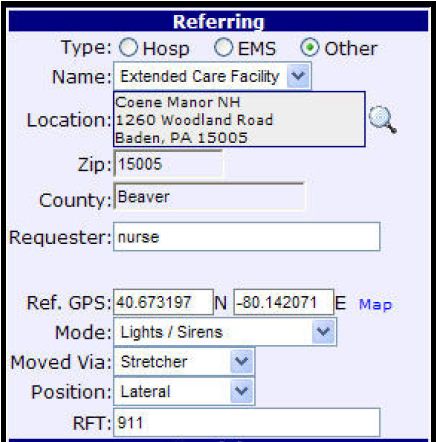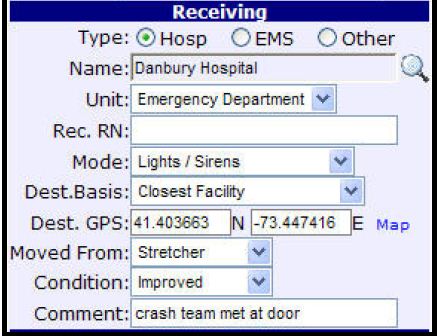 How it Works
emsCharts automatically assigns a Latitude and Longitude coordinate to addresses in the electronic patient care record.
Geo-coding Functionality
Auto-calculates mileage (air or ground) between two points
emsCharts references MapQuest to determine the shortest driving route or straight-line distance between two locations (for air).
Bio-Surveillance Alerts
Setup alerts (via email) to notify you when a threshold number of calls is reached determined on location and frequency.
For example, a FLU 10 10 10 alert would be setup as follows: 10 Flu-like symptom calls within 10 hours within a 10 mile radius.
For example, a Overdose 5 5 5 alert would be setup as follows: 5 Narcan administrations within 5 hours with in a 5 mile radius.
Plot density mapping
Display all of your EMS incidents on a map. Specific calls can be filtered by based on call, date range, call type, call location, etc.
Reporting
Closest Trauma Center Report
Distance Between Base and Call Report
Time Between Base and Call Report
Closest Base Report
Mapping
Geo-coding Setup
Simple and Easy - Confirm that your Basesite code table has addresses for all your Basesite locations and click on the Re-Geocode button. emsCharts will do the rest!
Geo-coding Value
Eliminate the need for crews to enter mileage
Achieve better compliance with mileage to the tenths-of-a-mile
Standardize distances between locations in your service area
Create visual representation of your data for a different point of view